Hopefully you've arrived at this website because you're an avid sci fi reader who enjoys a bit of space opera and you're curious about my new book 'Star Splinter' (good to have you here). If you're more of a bodybuilding fanatic, I'm afraid you've made a blunder in your search and you're looking for an author called Eric Cressey (good luck packing on the muscle).
So here's my debut novel, Star Splinter, book one of the Fractured Space series. The writing of it was at times extremely fun and other times rather tense. Hopefully it reads the same way!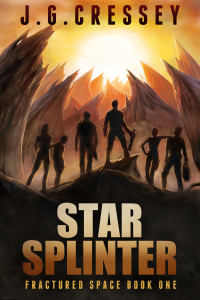 I must say, I'm really rather fond of my front cover. If it's piqued your interest please have a dig around my site to learn more about me, the book and what I have planned for the future. As long as there're no disasters (which with my tech skills is entirely possible) Star Splinter will  be available to buy on Amazon from Monday the 9th of Feb. Wish me luck!