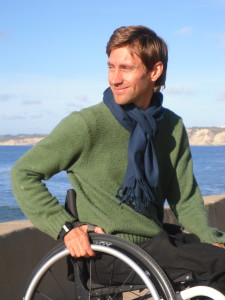 So I finally have my own little nook on the internet! Welcome!
Born in 1976, I grew up on the south coast of England and enjoyed an active childhood involving swing ropes, tree houses and homemade go-carts. In my teens the interests became scuba diving, rock climbing and martial arts. At the end of my teens a spanner was thrown in the works in the form of a car crash in which I managed to break my neck (Yes, it did hurt). Deciding that University was too dangerous for a young man in a wheelchair, I decided to travel the world for a decade or so. I took in some of Africa, Brazil, Cambodia, Australia, lived in New York and San Diego for a bit, basically had a fun time of it. But no matter where I went I always looked forward to heading back home to England. Despite the weather, it's a rather nice place to live.
I guess I have Roald Dahl to thank for sparking my interest in books and writing. I loved his books as a boy and I remember seeing a documentary that showed footage of Mr Dahl sitting in a little shed in his garden sharpening pencils and scribbling away. The idea of it struck me as a good life and a couple of decades later the notion finally took hold. I don't have a shed, but I do have a great library where I live in the South West of England. I visit it most days with my trusty little apple laptop and tap away.
Soon after Roald Dahl, it was Star Wars that began to influence my imagination — the combination of science fiction and fantasy really floated my boat, so to speak. I spent a few years dabbling with stories, but the big inspirational kick up the butt came when I first viewed the wonderful, but tragically short lived TV show, Firefly created by that force of nature Mr Joss Whedon. His balance of light hearted humour, sometimes dark, emotional drama and kick ass action really hit home and the idea for my first book 'Star Splinter' began to take shape. Star Splinter is the first in the Fractured Space series involving a group of characters who already seem to be doing the story telling for me! The prequel novella titled 'Harper's Ten' is now also out and I'm working hard on book 2.
I hope you enjoy reading them as much as I enjoy writing them.
If you'd like to drop me a line that would be lovely! Here's my email jgcressey@gmail.com